About / A propos
Under the overlay of giant foliage of a sunny tree, in Brazil where I lived for 30 years, I found in the light a source of inspiration that has fed my work as a scenographer and artist.
I also apply myself to reproduce the dreamlike effects of light by creating lighting and scenery, something that can be found in my career that would be the result of a symbiosis between two universes, that of Brazil where I was born and that of Belgium where I also undertake the scenography.
From Brazil, with my activities as a scenographer, painter and creator of visuals, painted clothing shows and collections of prints for fabrics. Mural and botanical paintings. And also the artistic direction of exhibitions, including that of Christian Lacroix and that of Anita Malfati, in São Paulo. And again the decorations conceived simply by plays of light. And the creation of lighting fixtures for emblematic restaurants or stores, always in São Paulo. Or textile painting with the Bororo, Guarani and Xavante indigenous communities. And the teaching of scenography at the Museum of Contemporary Art of São Paulo and elsewhere, in different schools.
From Belgium, with the scenography of Congolese musical ensembles of Kasai All Stars, Konono N°1 and Staff Benda Bilili. The sets and lights for the paintings accompanying the trance of their ritual music.
From Brazil, with the diorama of the biosphere museum of Campo Grande, in Mato Grosso.
From Belgium, with the exhibition Home Sweet Home, with its lace curtains and luminous sculptures.
From Brazil and Belgium, with all these researches and creations.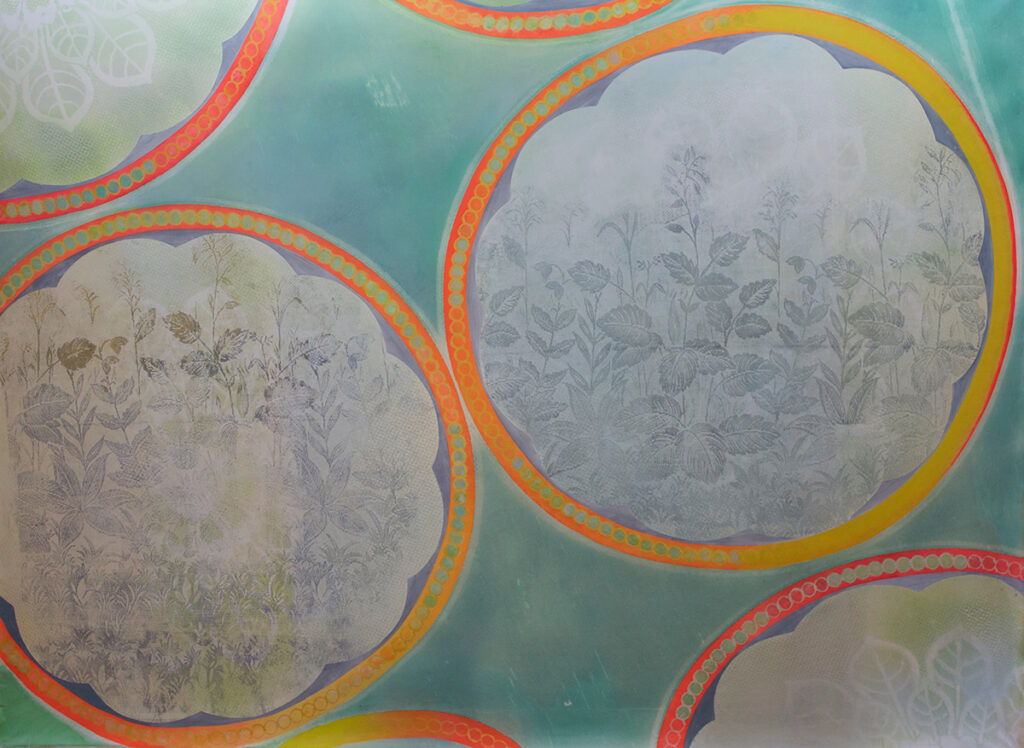 Sous les superpositions de feuillages géants d'un arbres ensoleillé, au Brésil où j'ai vécu pendant 30 ans, j'ai trouvé dans la lumière une source d'inspiration qui a nourri mon travail de scénographe et d'artiste.
Je m'applique aussi à reproduire les effets oniriques de la lumière en créant des luminaires et des décors. On peut retrouver dans mon parcours quelque chose qui serait issu d'une symbiose entre deux univers, celui du Brésil qui me voit naître et celui de la Belgique ou j'entreprends aussi la scénographie.
Du Brésil, avec mes activités de scénographe, peintre et créatrice de visuels, des défilés de vêtements peints et les collections d'estampes pour tissus. Les peintures murales et de botaniques. La direction artistique d'expositions, notamment celle de Christian Lacroix et celle d'Anita Malfati, à São Paulo. Et encore les décors conçus simplement par des jeux de lumière. La création de luminaires pour des restaurants ou magasins emblématiques, toujours à São Paulo. Ou la peinture textile avec les communautés indigènes Bororos, Guaranis et Xavantes. L'enseignement de la scénographie au musée d'Art Contemporain de São Paulo et ailleurs, dans différentes écoles.
De la Belgique, avec la scénographie d'ensembles musicaux congolais de Kasai All Stars, Konono N°1 et Staff Benda Bilili. Les décors et les lumières pour des tableaux accompagnant la transe de leurs musiques rituelles.
Du Brésil, avec le diorama pour le musée de la biosphère de Campo Grande, au Mato Grosso.
De la Belgique, avec l'exposition Home Sweet Home, ses paysages de tentures en dentelle et ses sculptures lumineuses.
Du Brésil et de la Belgique, avec toutes ces recherches et créations.